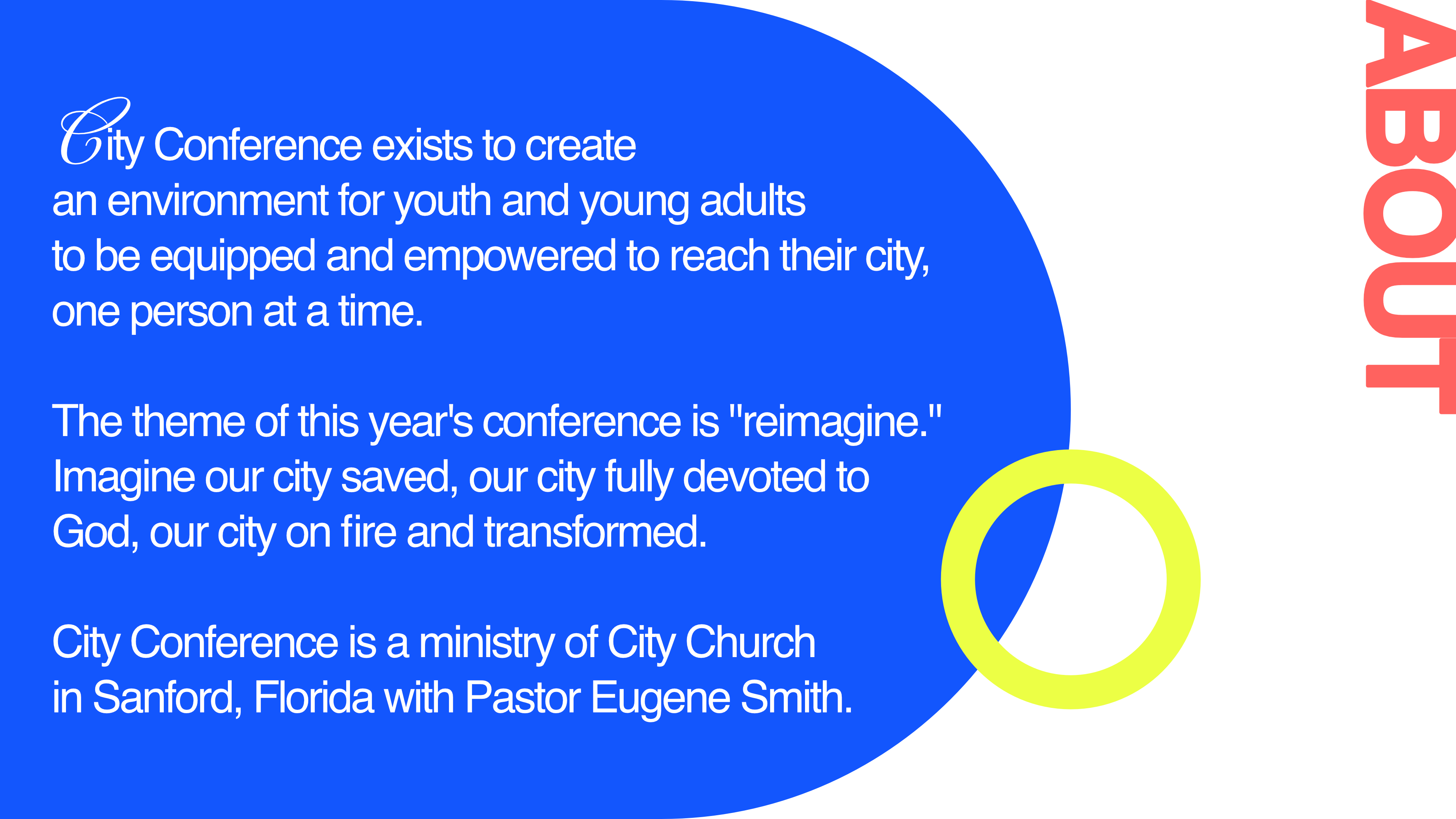 City Conference exists to create an environment for youth and young adults to be equipped and empowered to reach their city, one person at a time.
The theme of this year's conference is "reimagine." Re-imagine our city saved, our city fully devoted to God, our city on fire and transformed. There are people in our city that are broken, hurting and lost. Can we re-imagine what it would look like to reach those: broken, hurting, and lost?
This conference is open for youth and young adults to experience the presence of God, and be equipped to reach their city.
City Conference is a ministry of City Church FL in Sanford, FL with Pastor Eugene Smith.
WHO CAN ATTEND CITY CONFERENCE?
City Conference is open for anyone to attend. Everyone is welcome, from large groups to individual attendees.City Conference is designed for people to encounter God, equip the church, and empower next-generation leaders.
WHEN DOES THE EVENT BEGIN AND END?
The first Meeting of City Conference will not take place until 7:00PM on Friday, October 13. We open registration and check-in early to help accommodate those traveling. City Conference will conclude after Session 3 on Saturday, October 14.
WHAT IS THE COST OF CITY CONFERENCE?
Pricing for City Conference is $25 per person.
WHAT DOES THE REGISTRATION FEE COVER?
The registration fee covers your admission to all 3 sessions of City Conference. It does not include meals, transportation, or lodging.
ARE THERE ANY SPECIAL RATES FOR LARGE GROUPS?
No. The cost is $25 per person.
WHO CAN I CONTACT IF I HAVE ANY QUESTIONS?
Email our Youth Administrative Assistant, Ashley Brown, at ashley@citychurchfl.org.